*This post contains affiliate links, as an Amazon Associate I earn from qualifying purchases. Of course you are in no way obligated to purchase the recommended items*
I've always had an issue with dairy my whole life. But I never had to cut dairy out of my diet completely. Sure I avoided it because I knew too much would make my stomach upset but I never had the very real stress of having to read every single label, every single hard-to-pronounce ingredient and ask myself "is this dairy? …is that a bi-product of dairy?…is there dairy hidden in this?…or…has that been cross-contaminated with dairy?
It's  o v e r w h e l m i n g.
There were several times where I sat in the grocery store aisle trying to read labels or in the restaurant trying to read the menu and just burst into tears at the thought that any little thing I ate could significantly harm my baby.
I, like many other breastfeeding mamas, am dairy-free because my baby has an intolerance or allergy (we haven't seen an allergist yet) to dairy. I'll get into the back story on this in another post but just know that any tiny bit of dairy in my baby's system and she is extremely uncomfortable, fussy, and has full-body eczema flare-ups.
I know that there are a lot of mamas out there that were told they need to cut dairy out of their diet for the baby's sake and they don't know where to start. You immediately start stressing and thinking about all the things that you can't eat.
So I decided to just make a post about the things that you can eat. And trust me, things are a lot easier once you get the hang of it. It's just a slight lifestyle switch-up. And hey, one common side effect to going dairy-free is weight loss.
So, there's that.  🙃
A tip:
Before you eat anything, READ THE LABELS. Not just the allergen warning on the bottom. Sometimes food has dairy hidden in it. Even seasonings and sauces. Even medicines. (over-the-counter or prescription). You can find keywords to look for in this helpful article. When I first started I looked for kosher (not always 1000% reliable) and vegan foods to be safe until I got the hang of the label-reading.
Cross-contamination counts. If you read a label that says "May contain" or "processed on equipment that also processes" then just know each bite is risky and could be cross-contaminated. And yes, your baby could have a reaction to that. Thinking "just a little bit won't hurt" is false. It will. Even if you don't notice a reaction, that doesn't mean the baby's gut health isn't being compromised. It just isn't worth it to risk it.
whew! Stay with me, sis.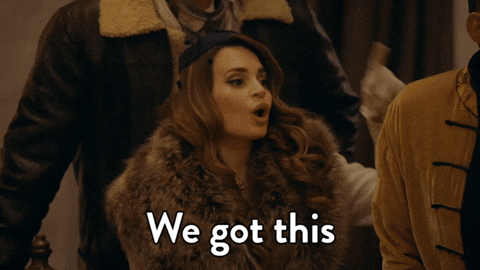 Still there? Ok, I'm gonna tell ya what I typically eat throughout the day.
Alright, so boom…
(food photos were pulled from my IG stories)
Breakfast
Homemade pancakes or waffles with plant milk and/or a little protein powder added in.
Plate with eggs, bacon or chicken sausages, toast or bagel
Easy One-Pan Breakfast Bowl: chopped potatoes, spinach, chopped bacon or sausage, garlic, onion, and scrambled eggs. (Should I make a little video of me cooking this? Let me know in the comments)
Oatmeal. I like to make rolled oats with one part oats, one part water, one part plant milk, half a mashed banana, a little cinnamon, and maybe a few blueberries on top when it's done.
Cereal or broken up Nature Valley bars with plant milk. Most cereal is dairy-free but as I said, Rule #1 is READ ALL LABELS.
French toast made with plant milk and eggs (and a little vanilla and cinnamon, of course). With a dairy-free syrup.
Lunch
Costco's quinoa salad (I like to doctor it up by tossing it around in a skillet with a little olive oil and a good seasoning mix. Usually Weber Grill's New Orleans Cajun seasoning is my go-to.)
Kirkland's beef hotdogs
dinner left-overs
Frozen tamales (I wish I had the plug for homemade ones. I'd def stock my deep freezer up!)
Purdue all-natural chicken nuggets
Tuna patties (I like to make mine with Weber Grill Garlic Jalapeno seasoning)
Tuna and crackers or toast
Lentils on toast or lentil soup
Dinner
burgers
a simple plate of a protein (usually meat), some roasted or steamed veggies, and a grain or starch (usually couscous, quinoa, rice, homemade biscuits, naan, potatoes.
a simple bowl of a protein, veggies, and a grain
grilled salmon and rice (cook the rice with vegetable stock and a little salt-free seasoning to add extra flavor)
tacos (obviously no cheese or sour cream unless you get dairy-free substitutes)
burrito bowl. My fave is to do it with skirt steaks or barbacoa meat.
shrimp on tostadas with refried beans and other toppings.
Dinner sausage (specifically Kiolbassa brand because not all sausages are dairy-free) with rice or penne noodles. I'll usually make my own tomato pasta sauce or a garlic "butter" sauce with plant butter.
If I happen to have a turkey I'll cut that up and make hot paninis. (I stay away from lunch meats because A LOT have dairy-derived preservatives or are cut on the same equipment as cheese. Cross-contamination.)
A lot can be done with Aidells chicken sausages or just eat it on a hotdog bun.
Homemade Soups and Stews! (Just be careful because some bouillons have dairy in them.)
chili
16 bean cajun stew
sloppy joes
a loaded salad
Gyros or gyro plate with rice
Meat or bean only enchiladas
Cheeseless "nachos" with shredded chicken, beans, and salsa.

Snacks & Treats
Most pretzels are usually safe
Biscoff cookie spread on….anything.
Oreos
Lots of fruit! (BUT, make sure you clean them good because sometimes the preservatives that are sprayed on them have hidden dairy)


Enjoy Life dairy-free chocolate chips. I like to make cookies with these and replace butter with shortening or plant butter in the recipe….or just eat them by the handful if I'm being honest haha.
Good & Gather fruit strips (my kids go crazy for these)
homemade goodies like muffins or sweet-breads.
pita chips and hummus
Veggie Straws (I'm addicted!)
Target's Market Pantry chocolate animal crackers
bagels
Nature Valley granola bars
Orgain chocolate protein powder mixed with plant milk and a banana
BoomChika popcorn
That's all I can think of at the moment but I'm sure I'll add to it later as I remember. And just think, this is only what I eat. There are still a lot more options out there. There is a group on Facebook with awesome information, very knowledgable admin, and lots of helpful threads. I encourage you to check them out!
I hope this helps give you a little more idea of what to look for in the store and most of all I hope this helps to give a little more encouragement. I remember how defeated I felt in the beginning. But just know, it does get better and YOU CAN DO THIS.
– Bridgid-Ryan
Have anything to add? Share with us in the comments below!
We're all in this together. 🖤