Y'all, I was feeling INSPIRED! I have been meaning to try a babywearing workout basically since my daughter was born but I've never gotten around to it. We run together a lot — and by "we" I mean I do the pushing and she does the napping in the stroller — but I hadn't worn her in the carrier and done a workout together! Hearing Zakia talk about working out with her little ones made me want to give it a try in another way. My initial prediction was that she would love it and I was right but here's what I wish I had known beforehand and the things I learned along the way.
1. Feed your baby before popping them into the carrier 
I had this thought as I was getting Ivanna dressed, "Ooooh I need to make sure that I feed her before I put her in the carrier!" Of course, mom brain struck shortly after and by the time I started the workout I had completely forgotten about that thought. Big mistake. As soon as I put her in the carrier she started complaining, when she usually loves it because she's close to me! It might not always be the case but it was definitely helpful to just start over — take her out, sit down and nurse, and come back to the workout. I even remembered in that moment I needed to cut her nails — mom brain strikes again, y'all — so after nursing her while cutting her nails and reorganizing everything, we came back to the workout.
 The hungry cutie in question
2. Make sure your carrier is supportive 
I have two carriers, they are both Infantino and I found them in Marshall's. I love them both and they were super affordable. I know people that swear by the Lillebaby ones or Baby Bjorn but that wasn't in the budget this time around. Besides, they both get the job done! One is more supportive than the other with a thicker back strap and more padding and I obviously chose that one to do the workout. When Ivanna was just born up until about 5 months, I used a ring sling my friend hand tie dyed and gifted to us. I looooooved the ring sling and if Ivanna we smaller, I might have used it. Now that she's several pounds heavier, I need more support, otherwise I immediately start to feel my muscles straining. The brand you choose for you and your baby doesn't really matter, what matters most is that you are comfortable, aren't straining your back, and able to maintain good posture!
3. Be patient with yourself aka your baby is heavy 
I love working out and I am generally pretty competitive when it comes to sports – I've been an athlete all my life and that being better than you were yesterday mentality never really goes away, haha! This first workout was very humbling. Maybe I would have been able to blow right through it pre-pregnancy but I am still building the muscle I lost and that is perfectly ok! I'll get there eventually. Ivanna weighs around 20 lbs these days and that is definitely a challenge! It was nice to take our time and appreciate being together and getting in some movement and not be so focused on how many reps I am doing, how out of breath I am, etc. Maybe your baby is a little too heavy for you to put in the carrier without compromising your form and potentially hurting yourself. That's ok! Try and brainstorm a few options where you're incorporating your little one but aren't responsible for their weight, for example laying your baby on the floor and doing a plank over them. Ivanna also loves to watch me do jump squats, for some reason she finds it hilarious! She will stop what she is doing, sit down, and laugh (at? with?) me!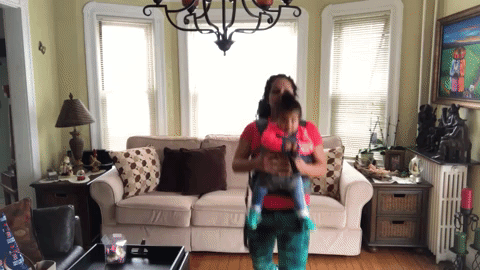 4. Pinterest can be a great source of inspiration
I find lots of the workouts and circuits that I do on Pinterest!! Check out our Wellness board by clicking below if you want to see some sample workouts we love.
5. Have fun with it! 
As we started moving around, Ivanna was laughing and clapping and making her happy noises! It made the workout overall so much more fun and inspiring. Hearing her laugh made me want to keep going — another rep to keep her laughing, switch it up to keep her entertained. We had so much fun!! Taking a video while we worked out was an added benefit because Ivanna LOVES watching herself on camera. Between the jump and movements and watching herself along the way, she was having the time of her life!
I'm so glad we tried this out and I will definitely be back for more! Would you try a babywearing workout? What tips would you add to this list? What are your favorite babywearing moves?
If you liked this post, click below to pin it!